Free Checklist: To Find and Rent Office Space in Singapore
Ever wanted a clear checklist that takes you step-by-step in finding your new office space in Singapore? Look no further, we have provided you with that comprehensive list, to guide you from the beginning of the search process, all the way to the office renovation task.
Below is the provided checklist for your viewing. Find the best office rent for your business by following the steps given in order!
A. Office Space Requirement Checklist
Office Size
We have provided a floor-space calculator for you on our website.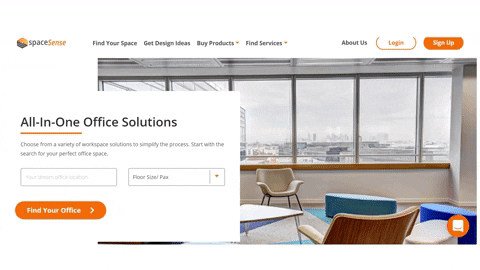 Check with HR on the projected headcount growth plan to ensure office size can accommodate the potential expansion of the team within the lease period.
Office Location
Consult stakeholders on the preferred location of the new office. Accessibility to public transport, proximity to clients and most importantly, the office rental cost are the few key determinants for choosing the office location.
Consult all business teams before making a decision. Do also consult a Commercial real estate adviser to learn about the current market pricing so you could do a proper office lease budgeting.
Be realistic, as this will help you in a more fruitful office search.
Understand your cash flow & budget
Office leasing is one of the major business decisions that can cost your company run out of cash, if not plan properly. Do cater sufficient upfront cost to manage the capital expense associated and the subsequent operating cost for the new office rental and maintenance.
Main capital expenses for new office setup
Office fit out/ renovation cost
Be realistic on your office fit out budget by identifying the quality and standard of furnishings & finishing required. Do factor in contingencies – at least 5% or higher if you have uncertain requirements for office renovation.
See How to keep office renovation cost low in Singapore
Office Leasing Associated Cost
Do set aside cash for Upfront Payments like security deposit, stamp duty, legal fees, advance rental. Every landlords have different requirement when it comes to security deposit and other terms. It is best to engage a professional to advise and negotiate on your behalf.
B. Office Search Checklist
Engage a Real Estate professional or a reliable platform
spaceSense is an online platform that helps you find your ideal office space. We put you in contact with qualified professionals as well.
Communicate requirements
Make sure you or the professionals have done a comprehensive review of what is needed. Cover all bases, as this will only benefit you and your business's pockets in the short and long term.
C. Office Space Site Viewing Checklist
Get decision-makers to attend site viewing
You will need to cater at least half a day for your key decision makers to view and select the ideal office space.
Rank the office space selection criteria before site viewing
Do discuss with your key decision makers and rank the key criteria for your ideal office space. Having clear selection criteria helps to make the viewing more meaningful and focused.
Key office space selection criteria include:
Is it accessible by public transport?
Does it suit the company branding image?
Does it come with Grade A building alike lift lobby?
Any nearby carpark facilities?
Is there sufficient natural lighting?
Is there window view for directors office?
Is it close to F&B and retail options?
Is there a raised floor system?
Who are the other building tenant profile ie. to identify if they are your client, part of your supply chain or competitor?
What is the condition of the building's common area and office interior?
Does the office have a lift frontage? Is the frontage important for your business?
D. Manage Timeline
Confirm the office site possession date
It is important to confirm the office site possession date in your office leasing terms. If you are unsure what will be a good site possession date for a timely move-in, click here to get a custom office relocation plan.
Allow for at least 2-3 months for office renovation
Do cater for more time if the renovation period coincides with any major festival like Lunar New Year, Christmas or New Year. If no renovation works are required, you will still need to engage cleaners to get the space ready for business.
Confirm the office move-in date
Allow time as mentioned above to renovate the new office space and to return the previously occupied space. You may need to exit your current office space earlier for office reinstatement.
Move-in and stay on top of your office lease 
Congratulations on the move! Do keep your office lease expiry date in mind. and review it at least 6 month prior to expiry.
Adhering to this checklist will ensure a smooth leasing process. Nail down your office requirements before you start your search and talk to professionals to make a more informed decision.
At spaceSense, we are here to help with your office rental process! We can narrow down your search options for you, and put you in contact with qualified designers, suppliers and movers. We're here to help!